TG Serviced Office is conveniently located the CBD of Hanoi in Tran Quoc Toan Street, Hoan Kiem District.
We have equipped your fully furnished private office with the latest IT and Communications infrastructure so you can work more efficiently.

Our staff are highly trained professionals that go the extra mile to enhance your business image.
All you pay is a small fraction of the value and impact they deliver.
If you are a 1-40 person growing business, go for a TG Serviced Office in Hanoi. It is the right base from where to expand your operations in Hanoi and Vietnam as a whole.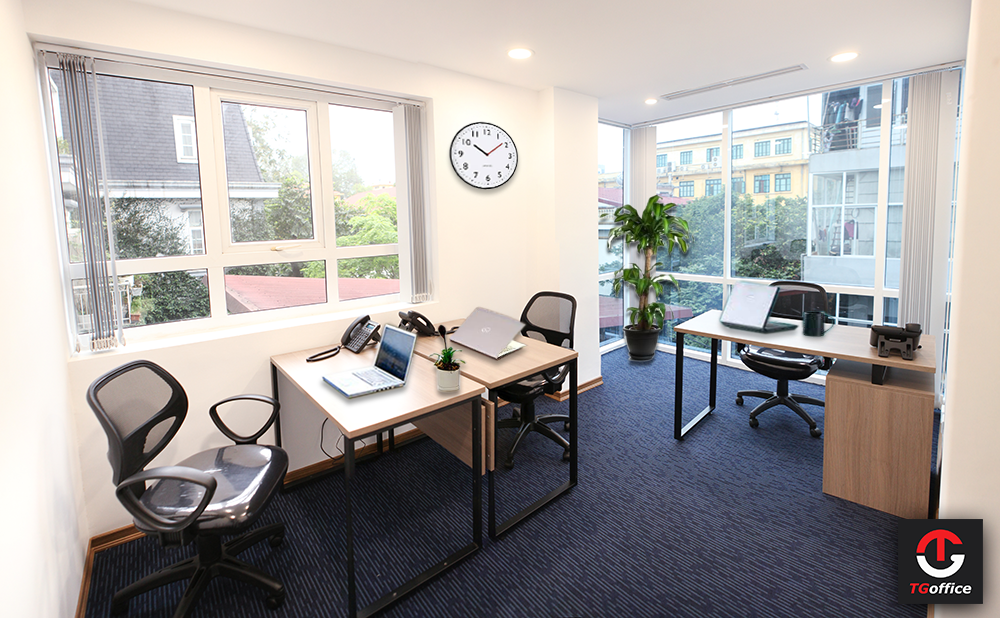 As low as

$50/m2 per month, you will have:

· Company's name listing/signboard in public area
· Address for business license
· State of art reception with professtional staff
· FREE high speed wireless access
· FREE Incoming and outgoing local faxes (using fax machine at the Reception
area)
· FREE 100 pages of A4 size per month for black and white photocopying or
printing, self- service, no accumulation month on month
· FREE Beverage (coffee/tea and plain water), self- service
· Technical support from IT specialist
· Mail/parcel receiving
· FREE 05 hour per month usage of standard meeting room, no accumulation
month on month, 02 days' advance notice
· 24/7 security, daily maintenance and cleaning service, fire alarm system and fire extinguishers, electricity and water supply
· Back Office Services: Hotel booking, tour booking, restaurant booking,…
· Air Conditioning during standard working hours:
+ From Monday to Friday: from 8:00 am to 6:00 pm
+ Saturday: from 8:00 am to 12:00 pm

Price:
STT
FLOOR AREA
( M2)
COST PER MONTH
( USD)
QUANTITY OF STAFFS
NOTES
STATUS
1
15
750
~5
Window view
Check
2
15
750
~5
Window view
Check
3
14
770
~4
Window view
Check
4
11
660
~3
Window view
Check
5
7
420
1
Window view
Check
6
9,5
570
~3
Window view
Check
7
9
540
~3
Window view
Check
8
8,5
510
~3
Window view
Check
9
9,5
475
~3
Window view
Check
10
10
500
~3
Window view
Check

. VAT is not included yet.
. Six-month-contract at least.
. Pay in Vietnam dong based on the exchange rate of Vietcombank by the time the contract's signed.
Click here to check out available room